As we all know, being naked in public is generally illegal - but there are some unofficial exceptions.
One exception: body art. When a person is naked, but you can't tell because their bodies have been completely covered with body art, then are they still technically naked?
Or if the body art is beautiful, or the body itself is beautiful, then can you say it should be allowed to be viewed for the purpose of the art?
So how do YOU feel about being naked? In public? Would you do it if you had a chance to be a piece of art, show expressive freedom, or be part of an entire movement?
How about this: would you be naked on a bike (doesn't this seem uncomfortable)?
Would you be naked on a bike, covered in body art, riding with hundreds of other naked painted riders, in front of thousands of people??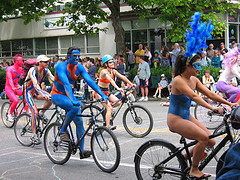 This is the case for the 150-plus bikers in the annual Naked Bike Riders of Fremont, a regular unofficial part of the Summer Solstice Parade and events in Seattle. Ten streakers started this tradition in the early '90s, which quickly became a largely controversial group effort to evade the police (on bikes, with some body paint), and eventually led to a well-accepted art form and widely attended and publicized event.
Highlights from this year:
1) The family that painted themselves as The Incredibles (kids in tow behind)
2) The painted young man two neighborhoods away that was caught asking for directions (he had minimal clothing on at that point which I'm sure was removed later)
3) The stray naked biker we saw up close - totally oblivious to the fact that she was naked by herself in a crowd of thousands (and the crowd, for the most part, was oblivious to her)
4. The effort people made to get good seats for the show - people climbed trees, statues, planters, and even hung their own hammock to get above the crowd.