On Friday Layla's Grandma L came to town to visit again, her first time back since her helpful visit last March when Layla was a little-little brand-new baby.
We have been having so much fun!! On Saturday we had pancakes at home and then walked around the neighborhood, up to the lake, to a garage sale (where we bought a pile of things) and then went to lunch in Fremont and Yellow Leaf Cupcakes. On the way to get the cupcakes we convinced ourselves to buy their famous Pancakes N Bacon cupcakes but when we got there they were out! So we settled for Orange Cake, Boston Cream, Snowball, and Chocolate-Toffee, which were all delicious.
Today we needed to let the Studly Hubby get some work done so Layla and Grandma L and I drove out to Ballard to go to the
Farmer's Market
, which I love but haven't been to in about a year.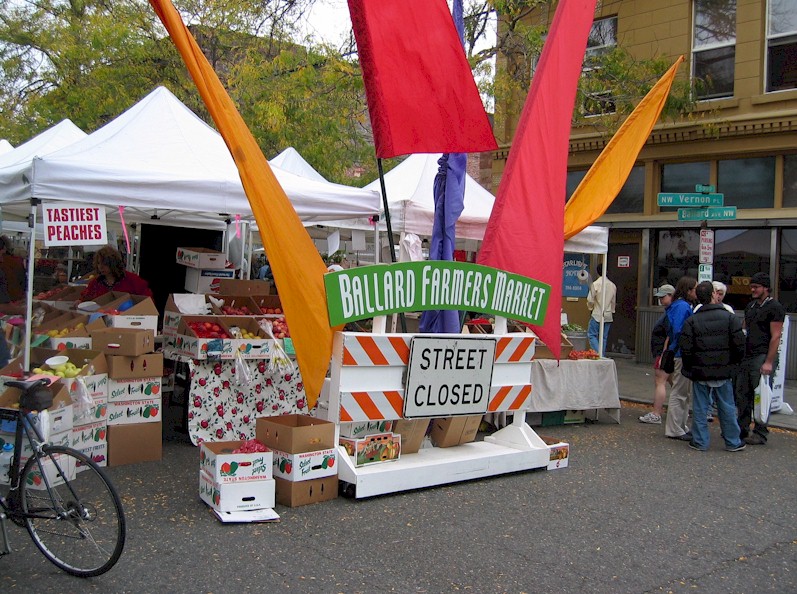 I have made some really awesome discoveries at the Ballard Farmer's Market, including the Best Soap, Pie and Cheese in the World, and Layla discovered her favorite new band, That Family That Plays the Most Awesome Bluegrass at the Market. Even when she's tired and cranky she's still happy to watch bluegrass at the market.
Afterwards we went to Kerry Park in Queen Anne where you can take the most scenic pictures of Seattle, although we all three forgot our cameras. So, my mom and Layla slept in the car for a while and I played on my iPhone, then when they woke up we all checked out the view and headed back home.
At home, Layla worked on her mobility. She has really made progress this week. Last week, she was getting up on all fours and rocking back and forth and crying with the frustration of not being mobile. This week, she learned how to get from that position into a sitting-up position and then this weekend she learned how to combine sitting-up, rolling, and wiggling on all fours to actually get around the living room. So, I'm going to call it:
LAYLA IS MOBILE


So now we're chasing her around our living room keeping her from getting into all the stuff she can't wait to get into, like all the cords by the phone, the cabinets under the TV, the stuff on our shelves, and that intriguing space under the coffee table. Unfortunately, she bonked herself on the noggin a few times and we are learning how much dust we've been collecting behind the couch, but for the most part it's really exciting.